Pull Tab Shredding & Storage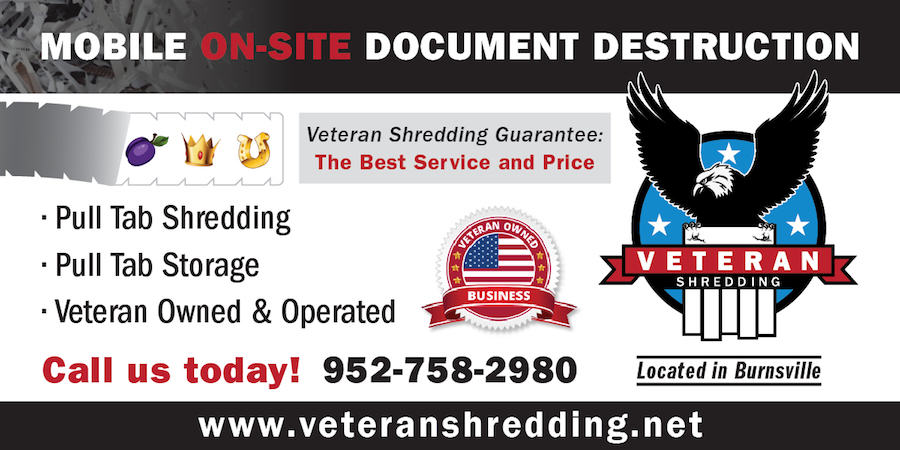 Are you a gambling manager, does your organization, club, VFW, restaurant or bar offer pull tab gaming? Do you need a way to securely dispose of excess pull tab tickets?
Veteran Shredding offers secure, onsite & offsite shredding for pull tab games using our industrial shredding equipment. Our mobile pull tab shredding service is affordable, reliable, and you can even watch us do the shredding!
Veteran provides pull tab shredding throughout the Twin Cities of Minneapolis-St. Paul and the surrounding areas.
Do you need a place to store your pull tab inventory? We offer secure, offsite pull tab ticket storage in our Burnsville warehouse. We'll store your pull tab ticket boxes until you need them so you can keep them safe and out of the way.
Veteran Shredding provides a complete pull tab service for gambling managers.
Pull tab pick up & delivery services to and from the gambling site
Pull tab receiving, identifying, recording, packaging and palletizing
Pull tab storage for the life cycle of the pull tabs
Quick turnaround time for all audited pull tabs
Guaranteed customer satisfaction for all pull tab services
If you are interested in a pull tab shredding or storage services quote or would like more information, please call us at 952-758-2980 or complete the form on this page.