You can finally say goodbye to the "to be shredded" piles of files that clutter your office and destroy your documents immediately. Veteran provides two choices of shredding collection containers for your office, clinic or business. You can pick the model that makes the most sense for your needs, or mix and match. Collection containers are FREE with scheduled shredding service.
---
Choose one style that works for you or "Mix & Match."
---
Executive Cabinet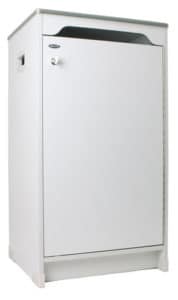 Locked, laminate cabinet-style consoles are the most popular choice for scheduled shredding. You may want to place them in your lobby, next to printers, in busy hallways or office areas. You may even want to add one to your conference room or each executive's office.
17″D x 19″W x 35″H
90-pound capacity
---
95-Gallon Cart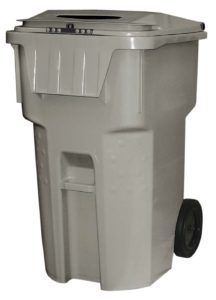 Perhaps you prefer our locking, plastic, rolling "garbage can"-style cart. These have wheels, hold more paper than consoles, and are great for warehouses, copy rooms, and one-time purge shredding projects.
Both of these containers offer a secure, convenient, time-saving way to destroy paper documents–just drop them in! Once the paper is dropped into the container it cannot be retrieved, providing a secure repository for your information.
26.5″D x 25.5″W x 46.5″H
340-pound capacity
---
Under-Desk Container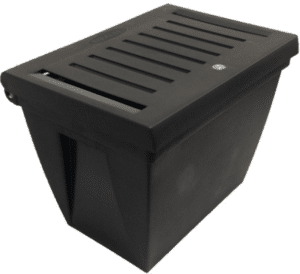 This unique 10.5 gallon container holds up to 30 lbs. and fits easily in most work spaces. It features dual paper slots, hidden hinges, side handles, and a double-lipped lid for extra security. This is an excellent solution for clients who don't have the space or the need for a cart which holds a few hundred pounds of paper—or for those with office layouts which leave some workers far away from the main cart or cabinet.
14.5″D x 20″W x 14″H
30-pound capacity
---
Once your collection containers are filled, or on your set schedule, one of our staff members will collect the contents and shred your documents on-site with our mobile shredding truck. After your documents have been destroyed, we provide you with a Certificate of Destruction for your records.
The frequency of service and the number of containers is based on your specific business needs. We will help you design a program that works perfectly for you.
Veteran Shredding is based in Burnsville and serves the Twin Cities of Minneapolis-St. Paul and the surrounding areas, including Scott and Dakota counties.
If you have questions or would like more information about our shredding collection containers or shredding services, please contact us by phone or complete the form on this page.
What Our Clients Say about Us
Last year, Veteran Shredding saved...
Click to learn more about how we help the environment: